Back to ELD Driver App
Switch Driver
The Switch Driver feature allows for easy switching of drivers.

The following are the different ways to perform a Switch Driver action:
Main Navigation Menu

Swipe from the left edge of the screen, or tap the Main Navigation Menu icon to show the Main Navigation Menu.


Tap on the highlighted portion on top stating "

Tap to add or change driver"


after which the 'Switch Driver' screen will then be displayed.

Tap the to add another driver, this will redirect the HOS app to the login screen.

Switch Co-Driver button (Options)

Go to

Hours of Service Main Screen.


Tap the

Options

button.

After which the

Options

screen will then be displayed.




Tap the

Switch Co-Driver button.

Note: If there are no other drivers who are currently logged into the HOS app, a popup dialog will show.

You can also add a driver by tapping the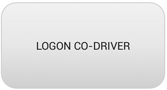 LOGON CO-DRIVER button.
Notes:
Displaying the Team Driving buttons such as 'LOGON CO-DRIVER' and 'SWITCH CO-DRIVER' are based on the value set on its account property. Having a value of false will disable the buttons and will not display it.
When logging in a Co-Driver, the default Truck and Trailer value will be the current Truck and Trailer value of the Main Driver.
Also the HOS app will always ask for the password every time a co-driver switch to active .



By checking the

Make Primary Driver

checkbox, you can set the switching driver to be the primary driver.

Upon successful login, the ELD records the logging in of another driver. It records a remark event on the driver's logs stating the first and last name of the co-driver.

(Per FMCSA, (a) ELD must provide an account secure access to data recorded and stored on the system by requiring user authentication during system login. Driver accounts must only have access to data associated with that driver, protecting the authenticity and confidentiality of the collected information.)